What Type Of Flooring To Have In Brisbane
Are you in the market for a new floor that is smooth, resilient, slip-resistant, and, most importantly, looks great?
Epoxy floors may be ideal for you because they are the most challenging and durable flooring available.
Epoxy flooring (also known as seamless floors) can be put on any concrete slab, changing a drab surface into a visually appealing one.
We provide home and commercial flooring installation using only high-quality Australian goods.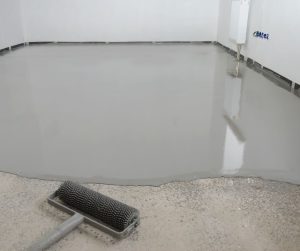 Epoxy Flooring
Adding a durable, beautiful, and long-lasting coating to a concrete surface to strengthen and visually enhance it is known as an epoxy flooring.
Both indoors and outdoors, the epoxy coating can be employed. It is, however, most typically utilised indoors, particularly in garages, residential areas, patios, and commercial or retail places.
Where should I apply?
The application possibilities are infinite, and it is increasingly used in landscaping!
The following are some applications for epoxy flooring:
Pool Surrounds Garages inside your home
Drivewayss Terraces
Workshops
Parking garages
Showrooms
Restaurants, coffee shops, and bars
Retail establishments
Why do Brisbane residents prefer epoxy floors to concrete floors?
Longevity
Because of their unrivalled durability, epoxy floors are the first option for many Brisbane homeowners and business owners. If your office flooring is concrete, an epoxy floor coating can help protect it while giving a durable and glossy finish that significantly improves its appearance.
Seamless floors are also popular since they have no seams or cracks, preventing dust and filth from gathering on the floor.
Adaptable to environmental changes
Epoxy resin is a mixture of resin and hardener applied to your surface to make a rigid plastic material. This material is long-lasting and robust. After epoxy floor coating, your floor can endure even Brisbane's most extreme climatic conditions, making it suitable for flood-prone regions.
When flooring like this floods, there is minimal to no flood repair work necessary.
The floors are also waterproofed and suited for commercial and residential installation, and unlike carpeting or timber flooring solutions, no mould treatments are required.
Can epoxy floors be applied to concrete surfaces variant in shapes and sizes?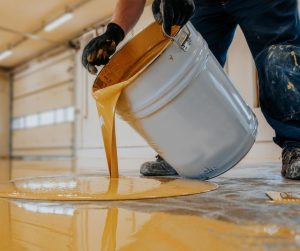 Without a doubt. An epoxy floor coating can be applied to any concrete surface in a home, business, or industrial setting, regardless of shape or size.
Epoxy is an excellent alternative to tile and vinyl. It combines the complex, slip-resistant characteristics of tile with the smooth, glossy sheen of vinyl.
8 Advantages of Having Epoxy Floors
Simple to maintain
Epoxy is the most accessible surface to clean. An epoxy surface is resistant to oil and other chemicals that can damage painted surfaces. Because the surface is so smooth, all you need to clean it is warm water and soap. Water spills and stains are easily removed, and the lack of cracks and gaps means that dust and dirt accumulate to a minimum.
Long-lasting and resistant
Because the unique coating offers the surface more strength than concrete, epoxy flooring is exceptionally durable and can sustain significant impact. As a result, epoxy flooring are perfect for workshops with heavy gear and commercial spaces with high foot traffic.
Scratch-resistant
The epoxy flooring protects against dents and scrapes. With reflected sparkle, you may get your floor's smooth, glass-like appearance.
The hygienic surface that is sealed and smooth
Because of its smooth and slippery surface, epoxy flooring does not harbour mould or bacteria, making it one of the most sanitary flooring solutions available. As a result, epoxy floors are ideal for rooms with stringent hygiene requirements.
Epoxy floors that slip resistant
If you want to reduce the chance of slipping in your home, you can apply a slip-resistant additive to the top layers of your epoxy flooring.
Commercial grade
Epoxy floors are resistant to chemicals and stains.
Colour variations
There are various colours available to match any room of your choice.
Reasonably priced
It is easy to lay over most existing floor coverings and dries quickly—it is ready for occupancy in 24 hours.
What is the procedure for applying epoxy floor coating?
The epoxy floor coating process can be broken down into the following steps:
1. familiarise yourself with the contents of the kit and plan the project
2. remove all things from the coating surface
3. gather all necessary tools and materials
4. mop the floor
5. prepare the flooring
6. Use the primer
7. decorate with ornamental shards or flakes
8. Apply the last or top coat.
How can epoxy floors increase the value of your Brisbane home?
If you want to sell your home and are considering ways to raise the value of your property and ensure that you get a good return on your investment, epoxy flooring is a good option. After all, selecting a cost-effective choice is a crucial aspect of improving the value of your house.
It makes no sense to invest a lot of money to increase the worth of your house if you aren't confident you'll get it all back.
Epoxy floors placed by a professional are an excellent example of a low-cost home repair. Epoxy is a practical alternative for your garage or kitchen floor. It adds beauty to your home without draining your monetary account.
How often should epoxy floors be renewed?
Although epoxy flooring is incredibly durable, sadly, they are not invincible. This means that you will need to undertake some maintenance work several years after installation.
With heavy use, epoxy flooring typically lasts 2 to 3 years.
Commercial sites with considerable daily traffic, such as garages, restaurants, or factory floors, may be affected.
On the other hand, your epoxy floor can endure considerably longer if properly cared for and maintained.
How much does epoxy flooring cost in Brisbane?
Epoxy floors are less expensive than other types of flooring.
A few factors determine the cost of epoxy floors:
the epoxy floor coating type you select, the size of the area, and the condition of the concrete slab to be epoxy coated (a high-quality concrete slab is a prerequisite for a professional epoxy coating of the highest standard).
Why should you use us for epoxy floors in Brisbane?
We have 25 years of experience in the field and are experts at putting epoxy floors on any concrete surface.
We're a Brisbane-based firm that consistently delivers outstanding installation solutions that outperform the competition in terms of quality. We have been in this industry for many years and are aware of current trends and the best items available for your needs.
The post Benefits of having Epoxy Flooring appeared first on https://insidetheapolloproject.com
The post Benefits of having Epoxy Flooring appeared first on https://gqcentral.co.uk