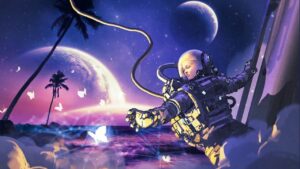 As blockchain technology widens its boundaries, the spotlight has shifted to Hollywood with the announcement of a brand new decentralised series named "HODL," which will incorporate fan interaction tokens and free mining services.
Audience to Gain Exposure to Token Incentives and Mining
In one of the most recent manifestations of the blockchain world, art imitates life as a story of a young entrepreneur proposing a blockchain enterprise progresses toward viewers' screens.
Cudos, a decentralised layer 1 and layer 2 blockchain network, has teamed up with the upcoming television series "HODL" and fan engagement protocol Sator to provide viewers with a value-added experience via the mining platform.
"HODL," an acronym for Hold On For Dear Life, will centre on Aveer, a token project named for a deceased buddy, and will chronicle the subsequent comedy and drama. The decentralised television series is scheduled to premiere in 2022 and will have a cast of genuine crypto celebrities in addition to a yet-to-be-announced Hollywood A-lister who will narrate the part of Satoshi Nakamoto.
Chris Martin, who is also the CEO of Sator, is co-writing the fictitious work that will be produced by Beacon Pictures and distributed in a decentralised way. Sator, which provides audiences with fan interaction tokens (SATOR), will reward "HODL" watching by linking them with show memorabilia. Users that download Sator's application and engage in relevant content or interactive quizzes and games receive NFTs, prizes, and the platform's native SATOR coin.
The collaboration between these two initiatives will see Cudo Miner introduced to viewers via in-show ads. Cudo's mining programme is meant to assist users in utilising unused computer resources to create tokens through the use of a system that automatically adapts to mine the most profitable currencies and maximises user returns.
The miner is fully integrated into Cudos' current ecosystem, which provides on-demand decentralised cloud computing services based on the community's surplus processing and graphical capabilities. Cudos Network aspires to play a bigger role in the entertainment business, owing to the significant resources required for rendering video throughout the post-production process, particularly as it transitions to decentralised resources.
According to the rules of the new collaboration, fans of "HODL" who download Cudos' mining programme will receive SATOR tokens that may be used to bid on digital artefacts NFTs or possibilities to feature in the TV series' plots.
HODL is not the first attempt by the industry to introduce a crypto-themed television series to a broader audience. "StartUp," a programme about cryptocurrency that premiered on Crackle, a free Sony Pictures Entertainment streaming service, lasted three seasons before being cancelled.
A reality show named "Crypto Castle Chronicles" that was to follow young crypto entrepreneurs living in so-called Crypto Castles built by inventor Jeremy Gardner was cancelled before it could air.
While the concept of cryptotainment is not novel, these examples illustrate how difficult it has been for crypto to permeate into mainstream entertainment, as well as the obstacles the sector confronts as it attempts to grow in popularity.
Who do you think will narrate Satoshi Nakamoto? Let us know in the comments section below.
The post Decentralized TV Advances as Cudos Ties Up With Sator and Crypto-Themed Series "Hold on for Dear Life" appeared first on https://cryptoscoop.news
The Article Decentralized TV Advances as Cudos HODLs With Sator First Appeared ON
: https://gqcentral.co.uk